NEW YORK -- Knicks guard J.R. Smith was late to a team meeting Tuesday, sources told ESPNNewYork.com, which may have led to his benching Tuesday night against the Charlotte Bobcats.
Smith also had a run-in with coach Mike Woodson on Monday after he complained about his playing time in overtime of the Knicks' win over the Phoenix Suns, sources confirmed.
Sources say Smith expressed his frustration with Woodson during the game and the two had a brief, heated discussion over Smith's displeasure shortly after the game. Smith's tardiness Tuesday and frustration with playing just 45 seconds in overtime likely led to Woodson benching Smith on Tuesday against Charlotte.
Woodson hasn't publicly talked about his reasons for benching Smith against the Bobcats, but he hinted in an interview Wednesday on ESPN New York 98.7 FM's The Stephen A. Smith and Ryan Ruocco Show that Smith has shown a lack of responsibility.
"I think it is a privilege to wear a uniform in this league," Woodson told Smith and Ruocco. "There's only 30 teams. There's [only] so many players on each team. I think every player has a responsibility and has to be held accountable for what they do on a ballclub."
Smith's tiff with Woodson on Monday night, first reported by the New York Daily News, was the latest instance of friction between Smith and the Knicks organization this season.
He was fined $50,000 by the NBA last week for his attempts to untie two opponents' shoelaces in recent games. That led to Woodson benching the 28-year-old in the Knicks' next game -- a nationally televised win over the Miami Heat.
Smith also was suspended for the first five games of the regular season for violating the league's anti-drug policy over the summer. In November, he was fined $25,000 for sending a threatening message to Detroit's Brandon Jennings on Twitter after Jennings questioned the NBA credentials of Smith's brother, Chris.
The Knicks released Chris Smith in late December to make room for free-agent big man Jeremy Tyler. Multiple sources say Smith is angry over the team's decision to cut his brother. He hinted at his displeasure with the situation at the time with a post on social media.
Smith signed a three-year, $18 million contract with the Knicks in the offseason, though he conceded last week that he is unsure of his future with the team.
[+] Enlarge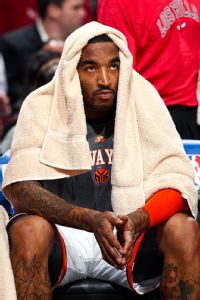 Gary Dineen/NBAE/Getty Images
J.R. Smith had a run-in with Mike Woodson on Monday after he expressed frustration with his playing time, sources confirmed.
Sources close to the situation told ESPN.com last week that the Knicks had become increasingly frustrated with Smith's on- and off-court transgressions and began exploring the potential trade market for him, even though they realized it will be difficult to move him.
Because Smith signed a contract for more than 120 percent of his 2012-13 salary and the Knicks are over the salary cap, Wednesday was the first day he was eligible to be traded.
During his interview with Smith and Ruocco, Woodson was asked about the possibility that Smith could be traded.
"J.R.'s wearing a Knick uniform. He's here. We're all in J.R.'s corner. That's never going to change," Woodson said. "I've been one of his biggest supporters, and that will never change. But again, it's all about team. It's not about Mike Woodson; it's not about J.R. It's about us doing the right things on and off the floor."
He added: "I'm not kicking J.R. to the curb. J.R. is a big part of what we've done here, and he will remain a big part. But he's just got to make sure that he's on the same page with the head coach in terms of what I'm expecting from him and what I want him to do in terms of his play and what he's doing on and off the court to help us win basketball games."
Smith reportedly said Tuesday that Woodson did not tell him before the game he wasn't going to play.
"For [the sneakers] to be the trigger point and for all this to happen is ridiculous," Smith said, according to published reports. He added: "I'll figure out what I can do better to help this team and go from there. If I can't help the team, [there's] no point in me being here."
Woodson was asked Wednesday by Smith and Ruocco if there were any other avenues he could pursue to get his message across to Smith, such as asking a teammate or assistant coach to speak with him.
"After a while, enough talk is enough talk. After a while, the player has got to be more accountable and take more responsibility, and that's where we are at this point," Woodson said. "... At the end of the day, that player has got to be more responsible, more held accountable for his actions.